Welcome to the Chadstone Development Discussion Forums, the place for Chadstone residents to discuss and share photos, opinions and comments regarding the expansion of Chadstone Shopping Centre and the redevelopment of the Middle Road area connecting Warrigal Road to the Centre. Chadstone, "Chaddy", is a shopping centre located in Victoria, Australia.
Discuss anything related to the Chadstone roadworks, new carparks, noise, dust, traffic, etc. We also have the
largest collection of photographs
taken during the various stages of construction and new redevelopment of Chadstone Shopping Centre and surrounding roads.
---
This site is not affiliated with Chadstone Shopping Centre, Colonial First State Property Management or the Gandel Group (the Centre owner).
---
Latest Discussion Topics
---
There is no need to register for an account - you can post anonymously if you wish. No personal information is collected. However if you wish to maintain an online profile, edit your recent posts, and have no restrictions on posting in the forums, you can
register
for an account.
---
About the official Chadstone Shopping Centre Updates
All images of the Chadstone Development Update (Project News) newsletters have been reproduced here as a courtesy to our readers. They are not in any way intended to infringe on copyright. The reproduction of such articles as part of a imformative site consitutes to fair use. The articles here are nonetheless in the public domain, as they have been mass-distributed to many residents.
---
Featured images





---
Latest images




News
Vic Premier turns sod for new $580m Chadstone Development
Tue, 02 Sep 2014 12:00 am
By
Admin
Today marks the beginning of the next stage of development of the Chadstone Shopping precint. The development adds 34,000m
2
of space to the Centre, a new public transport hub and 800 more parking spots.
The owners of Chadstone Shopping Centre say the addition of a luxury hotel will make it a truly world class facility. Victorian Premier Denis Napthine this morning turned the first sod of the $580m expansion with a brand new shovel. The development includes room for 40 new retailers, a hotel and a 10 storey office building.
Joint owner John Gandel says the hotel makes sense. "Most of the top, and I say 'top', shopping centres in the world now have at least one hotel adjacent, and some of them have three".
Since he's owned the Centre, it has had 40 revamps and additions, and this is not the last. "When you're always looking for the lastest innovations, you never know what you're going to produce. You know, 'what new ideas?' And somehow good developers always find a way of fulfilling everybody's wishes."
More than 3,000 jobs are to be created at the new expanded Centre, but not everyone is pleased with the $580m development. Over the past 30 years, there have been 39 additions and expansions to the centre. The 40
th
expansion announced today by the premier will include new cinemas, flagship stores, office blocks and additional car parking spaces. Stonnington Mayor Adrian Stubbs says some local residents are unhappy that there will be construction seven days a week for at least a year. He says "[residents] want to be able to sleep at night and not have trucks at 6:30am in the morning, lined up making a lot of noise."
Chadstone said there is a hotel on the drawing board, but firm plans to build have not yet been decided on.
---
Chadstone: The Thug Central
Tue, 12 Aug 2014 12:00 am
By
Admin
After reports of teenagers being attacked by gangs at Chadstone's public transport terminals, the 'Fasion Capital' has been labelled the 'Thug Capital'.
There have been calls for increased security and police presence at the centre in a bid to deter assaults. The centre already runs its own security patrols with in-house security staff, however the recent attacks highlight the lack of security manning. The Centre however is fitted with ample CCTV cameras, which were able to provide police with footage of the assailants.
Major Liquor retailer closes
Sat, 12 Jul 2014 12:00 am
By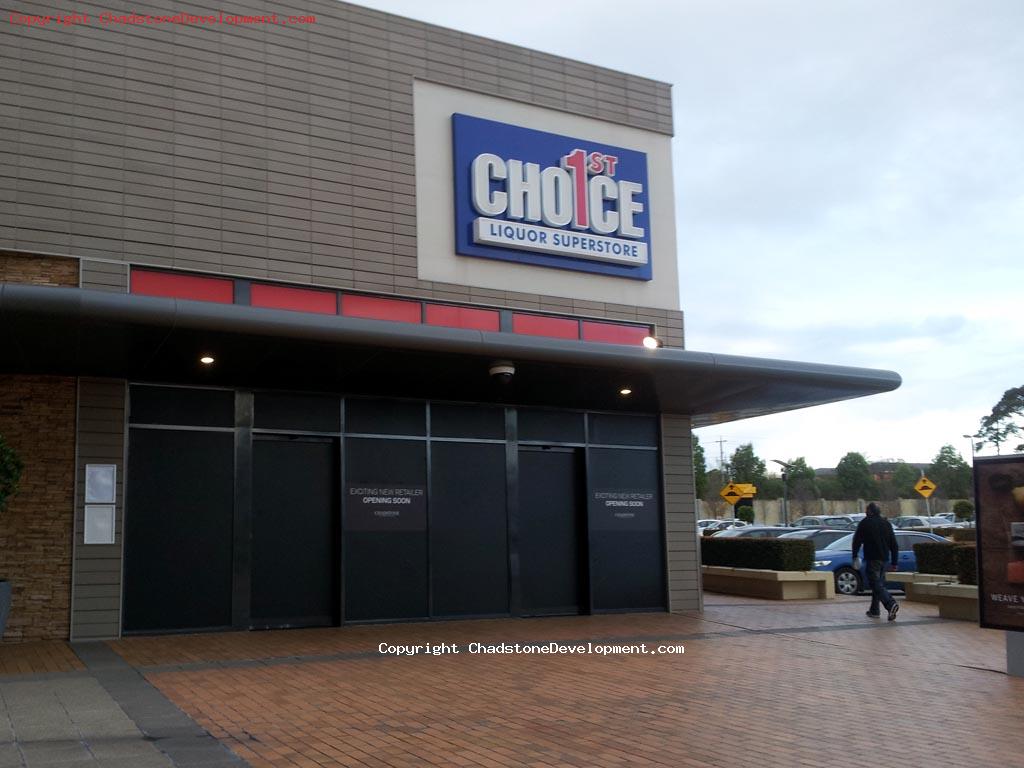 The 1st Choice Liquor Superstore has closed. As one of the liquor outlets,
Chadstone Hoyts closing 10 June for renovations
Tue, 10 Jun 2014 03:58 pm
By
Admin
The Hoyts cinema complex in Chadstone will close for up to two years as it prepares to renovate and expand.
It says it will re-open in 2016, and until then, movie goers will be required to seek other venues.
Mitchells Adventures to challenge Kathmandu
Sun, 01 Jun 2014 03:56 pm
By
Admin
About a year after Goldcross Cycles amalgamated with Amart All Sports, the vacant shop is now being fitted out by Mitchells Adventures, an outdoor apparel retailer in direct competition.
---